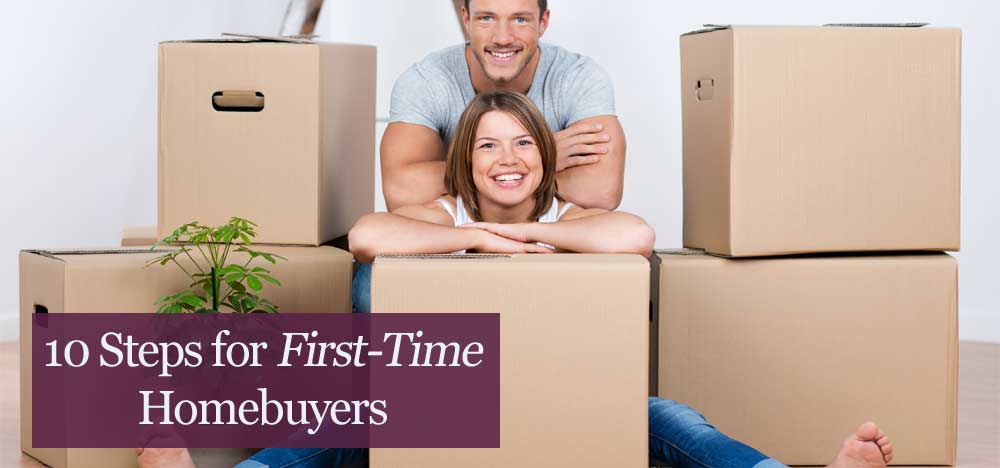 Date: September 9, 2014
So, you have decided to buy your first home. Now what? Buying a home can be thrilling and nerve- racking at the same time, especially for a first- time home buyer.
It's difficult to know exactly what to expect. The learning curve can be steep, but most of the issues can be resolved by doing a little homework at the outset and partnering up with a good real estate agent and loan officer.
10 steps to homeownership!
1. Contact a loan officer 
Buying a home is a big financial commitment. Your loan officer will help you get financially ready to purchase home and he/she will guide you through the mortgage process. So, how does 'getting financially ready work?'
– Check your credit: Know your credit history and make a plan to get your credit in shape if necessary.
– Assess your ability to make mortgage payments. You can get a rough estimate of your monthly payment using this 'mortgage calculator'. Your loan officer can tell you exactly how much mortgage you can qualify for.
– Check your down payment. If your down payment is not quite as large as you would like it to be, you can establish a budget to start saving towards a down payment. A down payment of 20% would be ideal. Don't have 20%? No need to despair. Nowadays you can get a mortgage with a down payment as low as 5% (or even 0% in some cases).
– Set a time frame. Determine when you'd like to buy your home. Take into considering your cash flow, credit and savings.
Want to read more? Check out this article. Would you like a recommendation for a loan officer? Give us a call at (949) 395-0960 and we will put you in touch with trustworthy and experienced officers!
2. Get pre-approved
Are you financially ready to buy a home? Your loan officer can provide you with a pre-approval letter. This letter proves to the sellers that you are both serious and qualified to buy a home.
3. Contact a local real estate agent
Your Realtor® will be your advocate and go-to-person throughout the home buying process. Your Realtor® will work for you to help you find the best home on the market and he or she will answer all your questions. We always recommend that you pick an agent who will hard for you, and that you stick with your agent. When you commit to your Realtor®, you can assured that your Realtor® will work even harder to help you find your dream home.
Me and my team would love to be a part of this exciting time. Give us a call at (949) 395-0960 or e-mail us at Jaleesa@JaleesaPeluso.com and find out how we can help.
4. Start the search
Together with your agent you will work to determine the kind of home you are looking for.
– Prepare for the search by identifying the features you look for in a home. How many bedrooms and baths do you need? Do you require air conditioning? What about a backyard? Are you comfortable with a HOA community?
– Location, Location, Location! Think about your needs in terms of your home's location. Do you need to be near a particular school district or close to a freeway for your commute?
– Type of home. South Orange County offers a great variety of condo's, single family homes and town-homes. All of the communities offer different lifestyle and ownership features. Your agent can help you evaluate the different communities and their advantages.
When you have set the parameters for your search, your agent will use his/her local knowledge to provide you with a list of possible homes that you might be interested in.
5. Looking at homes in Orange County
This is one of the more fun parts of the home buying process. Together with your agent you will look at different homes and different areas. Together you will evaluate the features of each home and neighborhood. You'll find that the more research you do, the better you will understand the market and what it is that you are looking for in a home.
6. Make an offer
Found your dream home? Work with your Realtor® to determine the appropriate amount for your initial offer. Your offer price should be based on market value, condition of the home and closing date. Your agent will be able to explain the offer process and contracts to you. Moreover, he or she will negotiate for you on your behalf.
7. Opening Escrow
Is your offer accepted? Great! Now is the time to transfer the money for your deposit to Escrow. This "good faith" deposit demonstrates your commitment to the transaction. An Escrow opened up to protect you as the buyer, the seller and the lender. Escrow additionally helps to make sure the transaction goes smoothly and all documents are prepared correctly.
8. Inspections and Removal of Contingencies
After you've made your deposit, your next step is to get the home inspected and appraised. As a buyer, you're responsible for these costs, so have your checkbook handy. You generally have 17 days to complete all the inspections. This so called 'Contingency Period' is an important time in which you get to make sure that the home is right for you.
During this time period your lender will work to get the loan officially approved. Is everything OK? Then you will formally remove the 'contingencies' of the purchase agreement, announcing to the seller that you have decided to move forward with the purchase of the home.
9. Finalizing the loan and down payment
Before escrow can close you will have to deposit the remainder of your down payment into escrow. At the same time, the lender will fund your loan so the transaction can be completed. Before the close of escrow you will also be able to do a final walk-through. The final walk-through serves to ensure that everything looks good and the home is in the condition agreed upon in the contract.
10. Close of escrow
At the close of escrow, the escrow company records the new 'Deed'. Property deeds are legal instruments that are used to assign ownership of real estate, or 'to transfer title'. Once you've signed the last document, the deed is recorded and your agent has dropped the keys in your hand, you're officially a homeowner. Congratulations! Go out and celebrate with a big juicy steak or a good glass of wine!
Ready to take the first step? Give us a call at (949) 395-0960 and let's get this party started!
Party? Yes, let's make buying your first home a great experience!
Are you renting and not sure if home ownership is right for you? Read more about the difference between buying and renting in this article. Please note that these 10 steps are a rough guideline to the process of buying a home. For more details and questions please contact us.
About Jaleesa Peluso
Jaleesa Peluso is a Real Estate Agent and REALTOR® who specializes in the South Orange County market. For more information visit: www.jaleesapeluso.com. Contact: (949) 395-0960 or Jaleesa@JaleesaPeluso.com