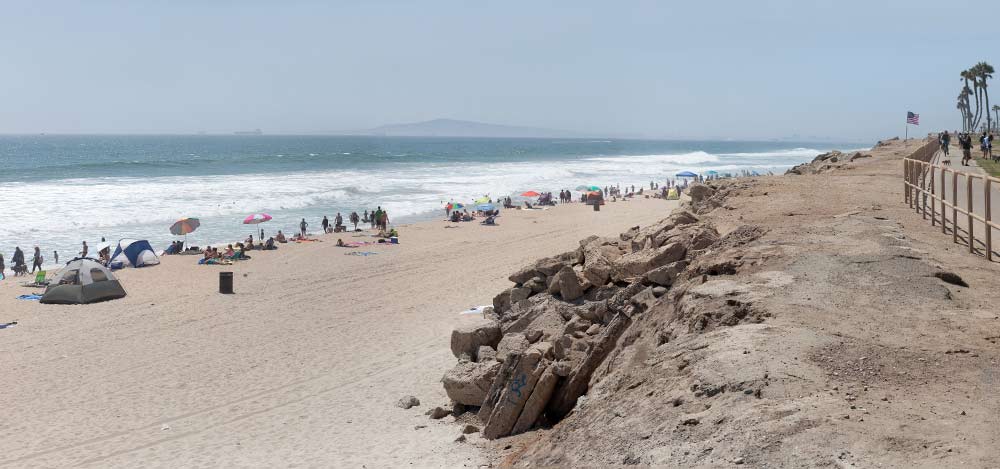 Date: February 10, 2016
As our short Winter seems to be fading away all too quickly, it is time to head back to the beaches with our furry friends. Looking for a fun day out? These are some of the best dog friendly beaches down in Orange County:
Laguna Beach
This is perhaps one of Orange County's most dog friendly towns. In beautiful Laguna Beach leashed dogs are welcome on public city beaches from September 17th through May 31st. During the summer (June 1sth – September 16th) leashed dogs are allowed before 9am & after 6pm. You'll still have time for a beautiful sunset walk with your dog during the summer. When you're not at the beach you can still enjoy some food or drink at one of Laguna Beach's many dog friendly restaurants, incl: Taco Loco, Wahoo's, Avila's El Ranchito, Gina's, Heidelberg, La Sirena Grill, and more.
Please note: South Laguna beaches do not allow dogs. However, you have plenty of other dog friendly beaches to choose from including: Laguna Beach's Main Beach, Crescent Bay, Shaw's Cove, Heisler Park, Moss Point, Wood's Cove, Rockpile, Thalia St, Oak St, and so on.
Huntington Beach Dog Beach
This is probably the most dog friendly stretch of beach in Orange County. Dogs are allowed off-leash, from 5am to 10pm, 365 days of the year. The off-leash portion stretches between Seapoint Avenue and Goldenwest Street. Parking is $1.50 per hour. If you want your dog to play with others, consider parking close to the Goldenwest part of Dog Beach where most dogs can be found. Have you never been to Dog Beach before? Walk the entire length of the beach for some nice exercise and to get a good feel for the beach. Do keep in mind that Pacific Coast Highway is close to the beach, and make sure you keep a good eye on your dog so they don't run too close to the road.
Newport Beach
This great beach town allows limited access for dogs. Leashed dogs are permitted before 10am and after 4:30pm on ocean front beaches. Enjoy an early morning run, a beautiful sunset stroll or evening bonfire with your pet. Especially during the summer months you will be able to spend some quality time on the beach, due to the extra hours of daylight. Newport Beach also has a variety of dog friendly restaurants where you can sit down with your pet.
Some dog friendly restaurants include: Bloomingdale's 59th & Lex Café, Blue Water Grill, Cafe Beau Soleil, Native Foods Cafe, Stone Oven and Rustica California Wine Bistro. Plus, did you know you can shop with your dog in many Fashion Island stores?
Newport Bay beaches are dog friendly before 9am and after 5:00pm. The Upper Newport Bay Ecological Reserve, located at 2301 University Drive, offers 1,ooo acres of coastal wetland. Here you will find a Nature Preserve, hiking & bicycle trails, boat launching facilities and a nice visitor center. A walk or run on one of the many trails is a great idea if you're looking to unwind at the end of the day and spend some time exploring nature.
If you are looking for something different, try stopping for a walk along Crystal Cove State Park. Although dogs cannot be on the beaches or backcountry, they are allowed on the paved pathway above the beach.
Corona del Mar
This town offers beautiful beaches popular for swimming and relaxing. The sandy beach is about a half mile long. and dogs are allowed on this beach during certain hours. Take your pet anytime before 9am and after 5pm, year round. Pets must be on a 6 foot or less leash. You risk a ticket if your dog is off its leash.
Dog friendly restaurants in Corona del Mar include: Zinc Cafe, Bamboo Bistro, Panini Cafe, Rose Bakery, and Pain du Monde.
"Secret" Unincorporated Beach
This one is recomended by The OC Barkyard. This little known "dog beach" is tucked away in-between Huntington and Newport Beach on the South side of where the Santa Ana River meets the Ocean. Because Newport and Huntington don't have jurisdiction here, there are really no laws about what you can and can't do when it comes to dogs on the beach. On a sunny day, you can usually find 20-30 dogs in this little sliver of beach playing around in the ocean.
Dana Point
No dogs allowed on the beach unfortunately. However, you'll love taking your dog for a stroll in the harbor. Whenever I am dog sitting my mother-in-law's dogs, I will take them for a run here. In the harbor you will find dog friendly restaurants, shopping and beautiful waterfront views.
Hungry for a snack after your walk? Consider visiting one of these dog friendly restaurants: RJ's, Shwack Beach Grill, Bonjour Cafe, Watermans Harbor, The Coffee Importers, Wind & Sea, and many more!
San Clemente
San Onofre State Beach allows leashed dogs on Trails 1 & 6. You can get here by taking the I-5 to Basilone. San Clemente is not Orange County's most dog friendly town. However, change may be coming. 'Friends of San Clemente Dog Beach' reported on on their Facebook page on Jan 12th, that "the Beaches, Parks and Recreation Commissioners agreed to have staff look into ideas of how to a dog beach could be implemented for them to looked at as possibilities."
Grab a bite with your friend at any of these restaurants: Avila's El Ranchito, Pacific Seafood Grill, Adele's Café, Beach Garden Café, Fishermans's Restaurant, and more.
About Jaleesa Peluso, South Orange County Realtor
Jaleesa Peluso is real estate agent with Berkshire Hathaway. Jaleesa and her real estate team specialize in Dana Point, Laguna Beach, Laguna Niguel, Newport Beach, Irvine, San Clemente homes. Thinking of making a move in South Orange County? Call us now at (949)395-0960!