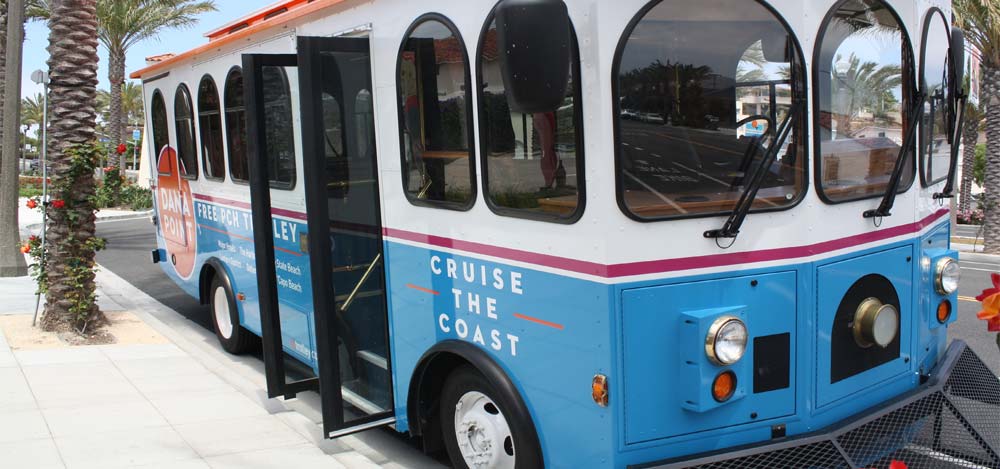 Date: June 25, 2016
From Friday, June 17, 2016 through Labor Day (Sept. 5 2016), the City of Dana Point will begin a DAILY Summer Trolley Service to better serve the visitors and residents of our beautiful community.
Trolley passengers will be greeted by brand new open-air style trolleys and will enjoy an expanded PCH Trolley route, Dana Point Harbor Shuttle service and an extended operating season.
Similar to last year, the PCH Trolley Route will run from Capistrano County Beach at Coast Highway/Beach Road/Palisades Drive in Capistrano Beach to the Monarch Beach Resort (formerly the St. Regis Hotel) and the Ritz Carlton, where it will connect with the Laguna Beach trolley. Stops near other major hotels, the Lantern District, Strand Beach (Selva Rd.), Doheny State Beach, Coast Highway timeshares and Doheny Village, among other areas, are included within the PCH Trolley route.
Based on valuable feedback received from the community throughout our 2015 PCH Trolley program, three additional PCH Trolley stops have been added to the route for the Summer 2016 season:
Golden Lantern/Del Prado (Ralphs Shopping Center)
PCH/Silver Lantern
Dana Point Library
The new Harbor Shuttle service will connect with the PCH Trolley at the Golden Lantern and Dana Point Harbor Drive intersection and will allow travel to the Ocean Institute, Baby Beach and the Harbor businesses and restaurants.
The hours of operation for the PCH Trolley and Harbor Shuttle services are as follows:
Monday-Thursday
PCH Trolley: Noon- 9:00 pm
Harbor Trolley: 10:00am- 9:00 pm
Friday
PCH Trolley: Noon-10:00 pm
Harbor Trolley: Noon- 10:00 pm
Saturday
PCH Trolley: 10:00am – 10:00 pm
Harbor Trolley: Noon- 10:00 pm
Sunday
PCH Trolley: 10:00 am – 9:00 pm
Harbor Trolley: Noon- 10:00 pm
Similar to last year's trolley program, the City must sustain its ridership counts to retain grant funding that helps pay for much of the Trolley costs. We were able to expand service to 7 days per week this summer due to the impressive weekend-only ridership numbers from our inaugural year. We need everyone's help to keep our PCH Trolley program running strong for years to come by hopping onboard during the weekdays and the weekends. Please spread the word!
The PCH Trolleys and the Harbor Shuttle will be handicap accessible and will be free of charge. In order to offer timely service, 4 PCH Trolleys will be used to ensure wait times are 15 minutes or less. Harbor Shuttle passengers can also expect similar wait times. Riders will be able to access real-time PCH Trolley and Harbor Shuttle locations and wait times on their smartphones with the use of a trolley tracker at www.dptrolley.com. Click here for shuttle routes and hours of operation!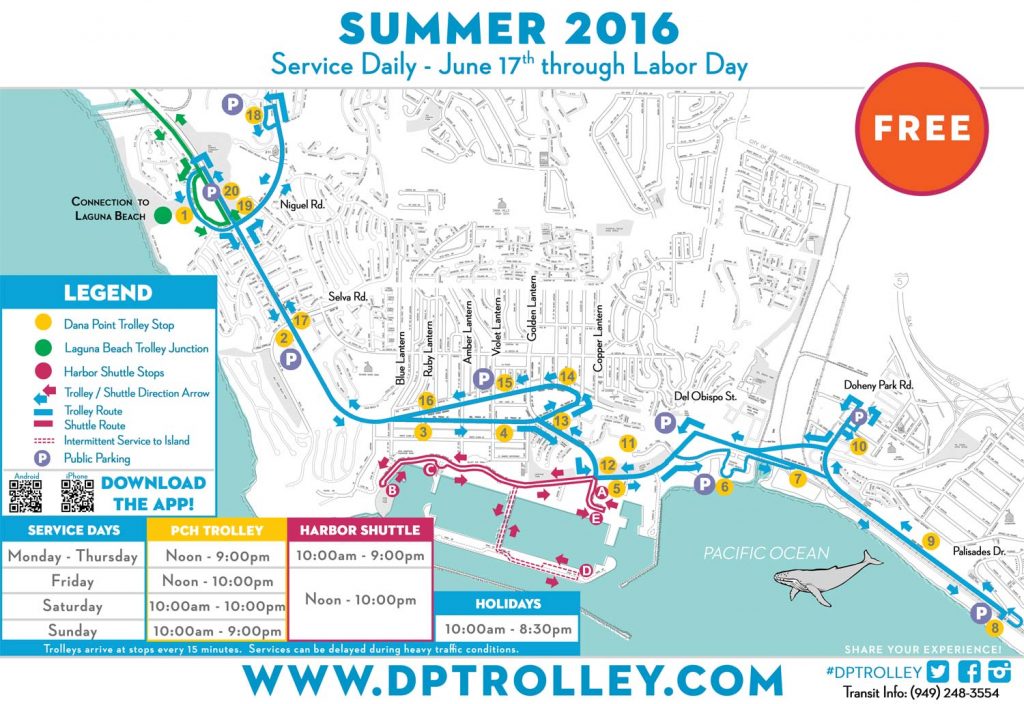 PCH Trolley Stop Locations
Ritz Carlton Dr./Resort
Selva Rd/Strand Beach South
Ruby Lantern/Del Prado
Violet Lantern/Del Prado
Dana Point Harbor Drive-Southbound
Doheny State Park
Double Tree/Doheny Campground
Capo County Beach/Palisades Dr.
Olamendi's/Bridge Beach Access
Doheny Village/Doheny Park Road
Park Lantern/Marriott
Dana Point Harbor Drive- Northbound
Golden Lantern/Del Prado (Ralphs Shopping Center)
PCH/Silver Lantern
La Plaza/Violet Lantern
PCH/Ruby Lantern
Selva Rd./Strand Beach North
Monarch Beach Resort (formerly St. Regis Hotel)/Niguel Rd.
Dana Point Library/Niguel Rd.
Sea Terrace Park/PCH
Harbor Shuttle Stop Locations
Dana Point Harbor Entrance
Ocean Institute
Baby Beach
Catalina Express Shuttle Service Stop
Harbor/Marina Businesses
About Jaleesa Peluso, Orange County Real Estate Agent
Jaleesa and her real estate team specialize in South Orange County homes and neighborhoods, including: Dana Point, Irvine, Laguna Beach, Laguna Niguel, Newport Beach and San Clemente. Thinking of making a move in South Orange County? Call us now at (949)395-0960!
This information is provided solely as a courtesy by Jaleesa Peluso, Laguna Beach Realtor. It is deemed reliable, but not guaranteed. Source: DanaPoint.org