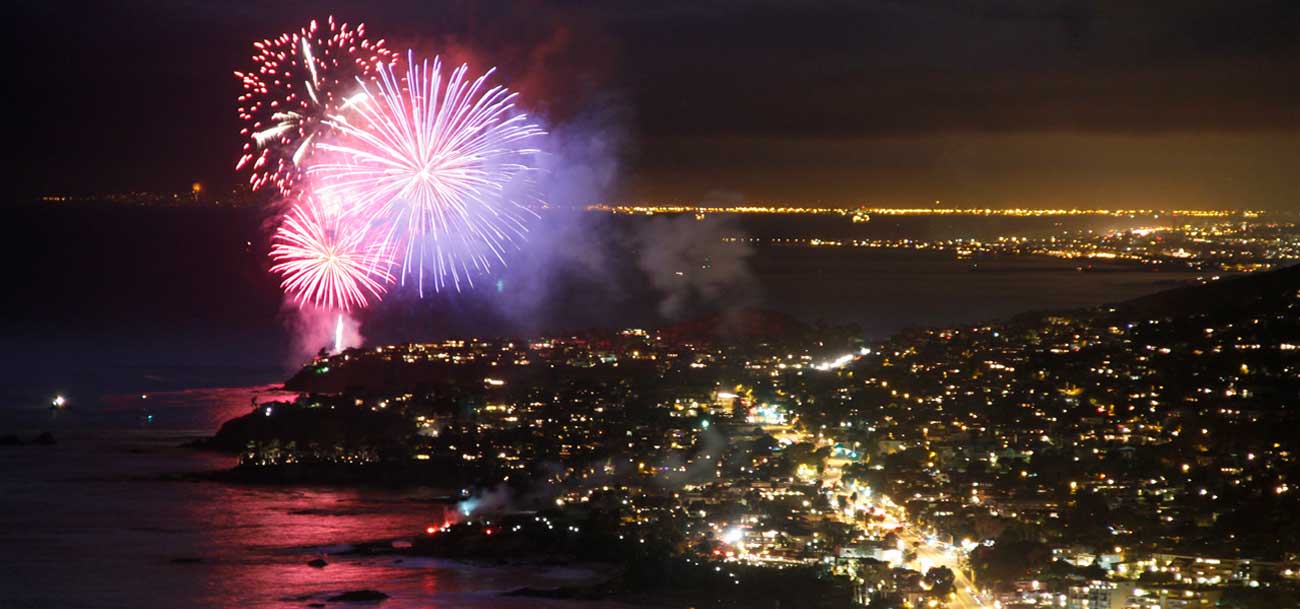 Date: July 1, 2016
As most of you know, I am from the Netherlands. In NL we celebrate our Independence Day on May 5th. On this day we don't mark the birth of a new nation, but the end of the occupation by Nazi Germany during World War II.
Our nation was liberated largely by the First Canadian Army, which included many American forces. Today, I am thankful not just to the Founding Fathers of the United States, but also to the brave American Soldiers who helped liberate the Netherlands almost 70 years ago.
Wishing you a very happy Independence Day!
Jaleesa Peluso
Newport Beach
1) Balboa Peninsula-Newport Bay July 4 Fireworks & Parade Cruises: Newport Landing will have 3 cruises for the 4th Of July including the Firework Spectacular evening cruise. Witness Newport Harbor as it is full of the Spirit of America. 2 1/2 hour daytime cruise times – 1:00pm to 3:30pm & 4:00pm to 6:30pm. Night time fireworks cruise will run 7:00pm to 9:30pm.
For additional information or to make reservations call (949) 673-1489 or www.cruisenewportbeach.com
2) Independence Day on the Back Bay: Enjoy a range of entertainment including live music from the Tom Solis Band, Mirage (Fleetwood Mac tribute) and DSB (Journey tribute). Other attractions include food trucks, a beer and wine garden and a fireworks display. Newport Dunes Waterfront Resort and Marina, 1131 Back Bay Dr., Newport Beach. 800-765-7661 or visitnewportbeach.com
3) Old Glory Boat Parade 1:00pm -3:30pm: Each year the Newport Beach Harbor becomes a festive delight as owners adorned their boats in red-white-&-blue decorations, balloons, streamers and waving flags that outline the skies as Sousa Marches and Anthems fill the air. Families and friends from near and far arrive at the bay front beaches and yacht clubs along the peninsula and the many islands, vying for the best spot to settle down and view the boat parade.
Dana Point
1) 4th of July All American Ocean-View BBQ Buffet at Laguna Cliffs Monday, July 4, 2016 5:00 pm to 8:30 pm. View patio and lawn seating. Buffet includes assorted salads, grill options including Prime New York steak, Angus burgers, All American hot dogs Balsamic Charred Red Onion BBQ Chicken, Kansas City baby back ribs, Hard Smoked Bacon Baked Beans, Corn on the cob, Corn muffins & buttermilk biscuits, Gourmet mac & cheese and desserts. Adults: $99.00, Children ages 6-12: $40.00, Complimentary for children 5 and under. Price includes: tax, gratuity and valet parking. Live Entertainment by Groove Allstars.
2) Dana Point Harbor Fireworks Extravaganza: 9:00 pm. Don't miss one of South Orange County's best aerial fireworks displays right here in your own back yard! Gather the family and friends, tune your radio to KSBR 88.5FM, look toward the skies over Doheny State Beach and experience this patriotic extravaganza. The fireworks are synchronized to a captivating musical score….if you haven't heard the music with the fireworks, you're only getting half the experience! Bring your radio to your favorite viewing spot and tune it to 88.5FM KSBR! Start out early in the morning if you're planning an Independence Day celebration at Doheny State Beach as this is the busiest day of the year! Complimentary shuttle service from Dana Hills High School to the harbor will be provided. Free. 24650 Dana Point Harbor Dr. 949-248-3530 or mydanapoint.com.
3) 4th of July Fireworks Cruises: Enjoy a unique evening of fun on the water, complete with a live Fireworks demonstration sponsored by the city of Dana Point.
Dinner Cruise, 7:30pm – 9:30pm $84 ADULTS | $39 KIDS (5-12) Held aboard the 95 ft Dana Pride and serving a scrumptious buffet style dinner before watching the fireworks show from their large limited passenger vessel.
Display Cruise, 8:00pm – 9:30pm $45 ADULTS | $29 KIDS (3-12) 4th of July on the water – an amazing experience! Enjoy fireworks with a spectacular view! Limited seating.
Curlew Sailboat Fireworks Cruise, 6:30pm – 9:30pm $95 ADULTS | $65 KIDS (2-12) Kick off the evening with a romantic, adventurous sailing trip on the schooner Curlew, then sit back and enjoy the Dana Point fireworks as you anchor off shore, for a very spectacular close encounter. Complimentary champagne, soft drinks and hors d'oeuvres.
Make reservations online or call (949) 496-5794
Laguna Beach
Laguna Beach Fireworks: The City fireworks show will originate from Monument Point at Heisler Park. For this reason, the Monument Point area will be closed all day on July 4th. Beginning at approximately 12pm, the area of Heisler Park from the Rock Bench at Myrtle Street to the Rockpile Beach stairs at Jasmine Street will be closed to the public to allow for fireworks preparation. The City fireworks show will begin at approximately 9:00 p.m. Please note that the free summer trolley will only run until 7pm on July 4th.
Laguna Niguel
1) Run in the Parks: Registration opens at 6:00am. 7:30 am 5K Run/Walk & 10K Run. 9:30am Children's Races.
2) Pancake Breakfast 7:30 – 11 am, Hosted by the Laguna Niguel Chamber of Commerce in conjunction with the YMCA. $5 for breakfast
3) Concert 6-8 pm Kick off your evening festivities with a live concert by Undercover Live (variety band) at Crown Valley community Park! After the concert, walk to the Regional Park to watch the Fireworks Spectacular (3/4 mi. walk each way). Bring flashlights and something to sit on in grass/dirt.
4) Fireworks start at 9 pm. LN Regional Park, 28241 La Paz Rd (Over the lake). Limited parking inside the LNRP (fees apply) and on La Paz Road
More information: 949-425-5100.
Irvine
1) Concert On The Green and Firework Festival: Gates open at 3 pm, Fireworks at 9 pm. Location: Irvine High School Stadium 4321 Walnut Ave. Irvine CA, 92604.
Featuring a Pyro Musical Sky Concert & Fireworks Extravaganza! Food Court, Live Music by the Derek Bordeaux Group, Games, Prizes, Bounce Houses for the kids and a Color Guard Presentation of the Colors presented by the Irvine Police Department.
2) Pacific Symphony July 4 Spectacular – The Music of Michael Jackson. 8pm at Irvine Meadows Amphitheatre. This high energy concert showcases the best-known hits of the legendary "King of Pop"—from The Jackson 5 to his final film, "This Is It!" — and includes music from "Off the Wall," "Thriller," "Bad," "Blood on the Dance Floor" and many more. The seven-piece rock group Windborne along with lead singer James Delisco joins Pacific Symphony to celebrate the genius of Michael Jackson's legacy. The concert opens with patriotic favorites and closes with a brilliant fireworks finale. Information: 714-755-5799
San Clemente
San Clemente Fireworks Show: At approximately 9:00 p.m. the City continues its annual tradition with a spectacular fireworks display from the Municipal Pier. The fireworks display can also be seen from many beaches and hilltop areas in and around San Clemente. The end of the Pier will close at noon on July 3rd for preliminary preparation and the entire Pier will close on July 4th at 8:00 a.m.
San Juan Capistrano
Carnival and celebration: Event includes a full-scale carnival, music performances, vendors and a fireworks display at the San Juan Capistrano Sports Park, 25925 Camino del Avion, noon to 10 p.m. Free. 25925 Camino Del Avion. 949-493-5911 or sanjuancapistrano.org.
About Jaleesa Peluso, Orange County Real Estate Agent
Jaleesa and her real estate team specialize in South Orange County homes and neighborhoods, including: Dana Point, Irvine, Laguna Beach, Laguna Niguel, Newport Beach and San Clemente. Thinking of making a move in South Orange County? Call us now at (949)395-0960!
This information is provided solely as a courtesy by Jaleesa Peluso, Laguna Beach Realtor. It is deemed reliable, but not guaranteed. Source: OrangeCounty.net