Date: January 7, 2016
posted by Jaleesa
/

Comments: No Comments

/

Tags: El Nino, orange county

Are you not used to all the wind, rain and thunder storms we have been having? This is how you and your home can survive this years' El Nino!

All of Orange County has been soaked in recent days with showers from El Niño, and a high-surf warning has been issued for the area. Most of the advisories expire at 4 am Friday, except for the high-surf advisory in Orange County which expires at 10 pm Friday. The National Weather Service said damaging surf of 10 to 15 feet is possible.

"January is historically the second-wettest month of the year at Los Angeles, but the presence of a strong El Niño favors above-average precipitation across Southern California," said weather.com meteorologist Quincy Vagell. "It is no surprise that a wet pattern is emerging after what has been one of the strongest El Niños on record."

So, what can you do to survive this El Nino?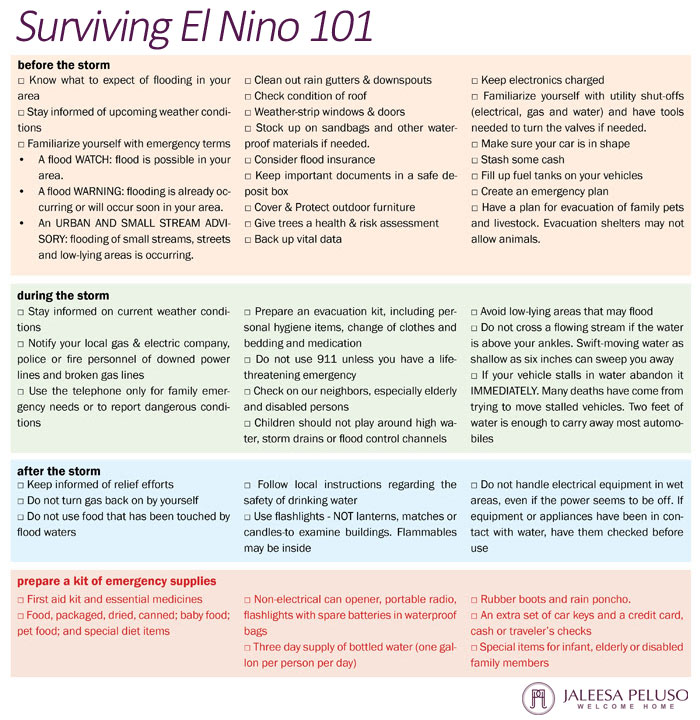 Most importantly, just use common sense. Check your local news for any flood warnings, before you leave for work.
Are the waves huge? Don't be that person who gets swapped away from the pier or beach by standing too close. Unfortunately we see this happen way too often during the summer.
Is it raining? Turn on your headlights and don't try to pass the cautious guy in front of you, hoping you'll arrive at your appointment one minute sooner. Believe me, I grew up in a country where it rains all the time.. I've been there and its not worth it ;).
Be safe everyone!
About Jaleesa Peluso, Laguna Beach Realtor
Jaleesa Peluso is real estate agent with Berkshire Hathaway. Jaleesa and her team specialize in Laguna Beach, Dana Point, Laguna Niguel, Newport Beach and surrounding areas. Thinking of buying, selling or renting? Call us now at (949)395-0960!