Date: February 2, 2017
Are you considering remodeling your house in 2017? Here are 5 of the biggest Orange County design trends for this year.
Bright Green, Shadow and Taupe
You will be seeing this cheery Green color a lot this year in home decor as well as commercial design. An upbeat color that can't help but make you feel happy. Named the 'Pantone Color the Year', Greenery is meant to represent refreshment and revitalization, something we can probably all use in our day to day lives.
For base colors, Benjamin Moore's color of the year is Shadow 2117-30, and Sherwin Williams' color, Poised Taupe SW 6039. Both of these are neutral tones that add understated warmth to a room, rather than the colder neutral colors we have seen in recent years. Experts suggest grays with warm beige undertones for living rooms and kitchens, and bold reds and rich caramels for bedrooms.
Mixed Patterns
First spotted at the New York Fashion Week in 2016, this trend will be making its way to home decor. For the pattern lover, it is time to say goodbye to the idea that mixed patterns are "too busy". A statement piece with mixed patterns can really anchor a room.
With all the neutral tones taking stage in 2017, it's important to add pops of color to keep your space from looking "blah." Designers and homeowners alike are favoring saturated jewel tones (such as emerald green and sapphire blue) in artwork, furniture and other home accessories.
Faux Materials
Here in Orange County we see many luxury homes with the finest, one-of-a-kind imported materials. Even so, there are also many families who are striving to give their home a luxury feel while on a budget. We are therefore seeing more Faux Materials. I am not so much talking about fur, but rather Faux Wood Ceiling Beams, Engineered Quartz, Faux Leather and Manufactured Gray Floors. These are all options that can be more durable, functional and still look as good as the real thing! For example Quartz can withstand heat and acidic foods and liquids much better than Carrara Marble, which stains easily and is quite high maintenance.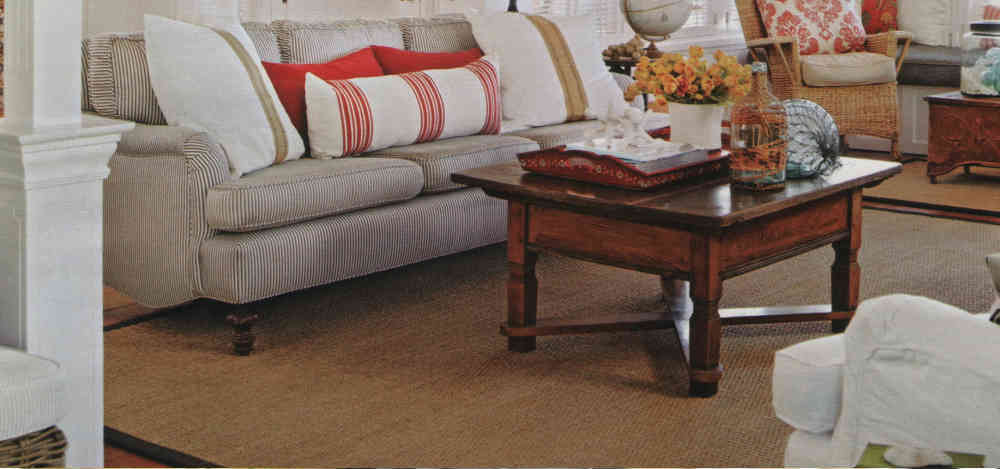 Texture
Texture creates interest, both visually and physically. People love to touch and feel comforted by great fabrics. We're seeing a lot of fabric manipulation such as pleating and folding and huge stitches made out of luxe yarns. One place where I have specifically seen texture become more popular in Orange County real estate is in carpets, with the rise of materials such a sea grass.
Navy is the New Black
If you are looking to give a nice accent to your interior or kitchen, navy is the new black. Especially here on the Orange County coast where ocean blue hues are a natural choice for home interiors. Navy blue is classic yet modern, and pairs well with any color scheme. Blue is a color that symbolizes loyalty, strength, wisdom and trust. Blue color is also known to have a calming effect on the psyche, which makes it a very good choice for bedrooms.
Matte Appliances
You may not have seen a lot of these yet, but they are slowly edging their way into Orange County kitchens. This new look is Bold without being in-your-face. It is an unexpected finish that can really add a wonderful layer to your design. This will be particularly popular in more contemporary interiors and kitchens.
About Jaleesa Peluso, Orange County Realtor & Certified International Property Specialist
Jaleesa specializes in South Orange County real estate, from Irvine to Newport Beach down to San Clemente. Thinking of making a buying or selling your home? Call us now at (949)395-0960!