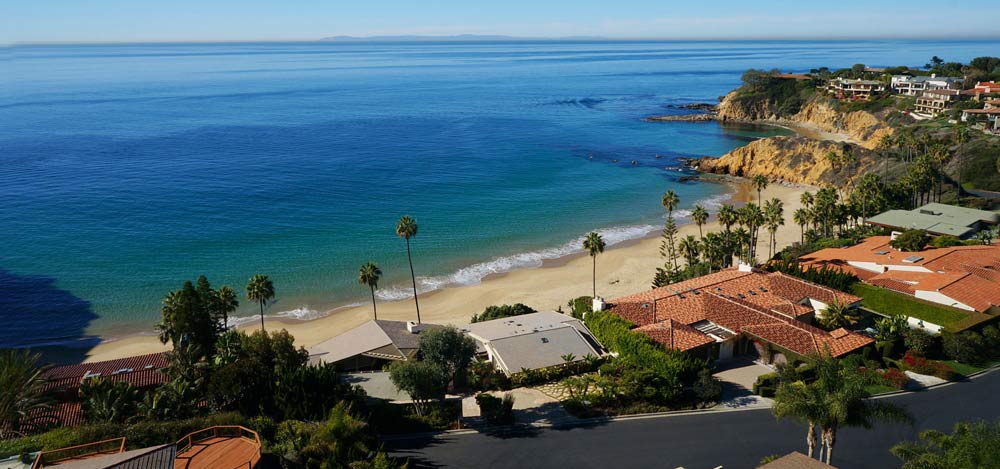 Date: September 21, 2014
Just south of Irvine Cove in Laguna Beach you will find Emerald Bay. Emerald Bay captures the charm of the Riviera and is one of the most coveted guard- gated communities along the coast.
Beautiful estates load the tree-lined streets with ocean views and perfectly manicured landscaping. The gorgeous crescent-shaped bay is surrounded by high cliffs, features a beautiful half-mile beach and provides scenic anchorage for luxury yachts. The topography additionally ensures that nearly every home within this community boosts glorious views of the ocean, Catalina Island and Laguna Beach.
A Short History of Emerald Bay
In 1769 Gaspar De Portola and Friar Junipero Serra laid claim to a vast area of Southern California on behalf of the Spanish Crown. At that time the area was inhabited by Native Americans of the Shoshonean language group. In 1821 the Spanish relinquished their claims to the Republic of Mexico. In 1837 the Mexican Governor granted title to a tract of land known as Bolas de San Joachin to Don José Andres Sepulveda. This tract included the Emerald Bay area and hence, Don José became the first individual to own Emerald Bay property.
In 1876 (30 years after Southern California became a U.S. Territory) a partnership led by James Irvine purchased the 148.6 acres of land from Don José that are now known as Emerald Bay. James Irvine subsequently took full ownership of the property and sold it in 1906 to William Miles and Harry Callendar, who in turn sold it to Bert Clogston in 1925. Finally, Emerald Bay was sold to W.T. Graig in 1928. He would be the last person to own Emerald Bay in its entirety. In 1929 Emerald Bay was put into the so called 'Emerald Bay Trust', and the community was officially founded. The general consensus is that Emerald Bay was named for the color of the nearby waters. In the years that followed Emerald Bay was subdivided and the individual lots were sold. The community would be developed largely between 1930 and 1940.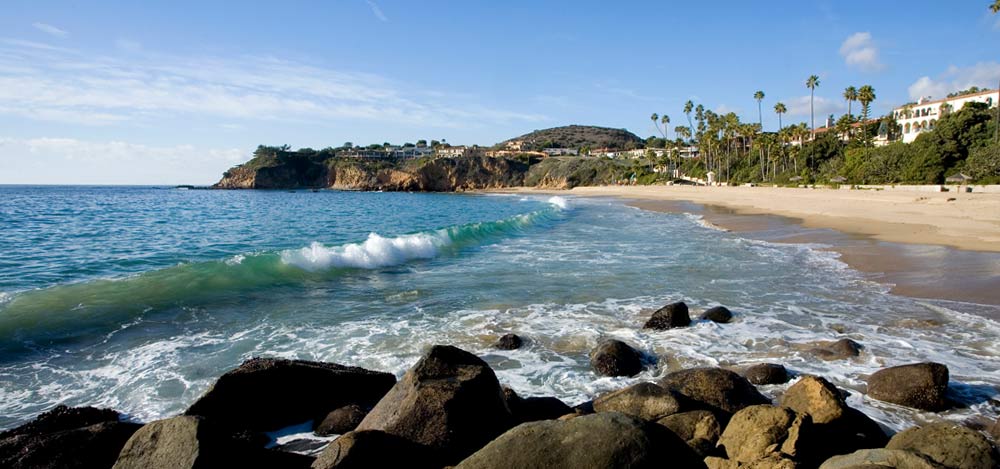 The Community
Behind the gates of Emerald Bay you will discover a versatile, friendly and safe community with some of the most coveted real estate in California. The community offers plenty of entertainment and exclusive amenities for young and old. Throughout the year residents can take advantage of of the fire rings, picnic benches, beach lockers, kids playgrounds, beach volleyball and three beautiful parks (approximately 15 acres) with clubhouse. The heated Swimming Pool Complex includes a 25 yard lap pool, a diving pool and a toddler wading pool and spa. Moreover, there are six Tennis Courts with a full-time tennis pro and tennis instruction programs. The private beach for which Emerald Bay is famous is about a half mile long and supervised by Life Guards during the summer. There are several holiday events throughout the year, including a well-known private fireworks display on Fourth of July. Emerald Bay even has its own Fire Station, manned by the Orange County Fire Department.
Emerald Bay has a little over 500 homes and interestingly enough only 14 ocean front lots. There are 11 tracts in the community, subject to virtually identical covenants, conditions and restrictions. The Emerald Bay Community Association administers the rights and obligations created by all the CC&Rs and establishes a fiscal year budget. The Association dues are based on the value of the subject home, and as a result the dues tend to range from $3,700 to $6,500. The property tax rate for homes within Emerald Bay is about 1.025%. There are no 'Mello-Roos' assessments in Emerald Bay. For additional information regarding specific property tax information, please visit: Tax.OCgov.com
Emerald Bay has about 1,000 residents. The community offers a good variety of families as well as long-time residents. According to City-Data the average income is about $ 140,000 a year, as compared to about $ 85,000 a year for Laguna Beach.
Pacific Coast Highway cuts through the community creating two separate segments. The beachfront community is west of Pacific Coast Highway and the hillside community is on the east side of Pacific Coast Highway. The hillside residents may access the Emerald Bay beach via a private tunnel. You'll find that many residents use golf carts for transportation within the community.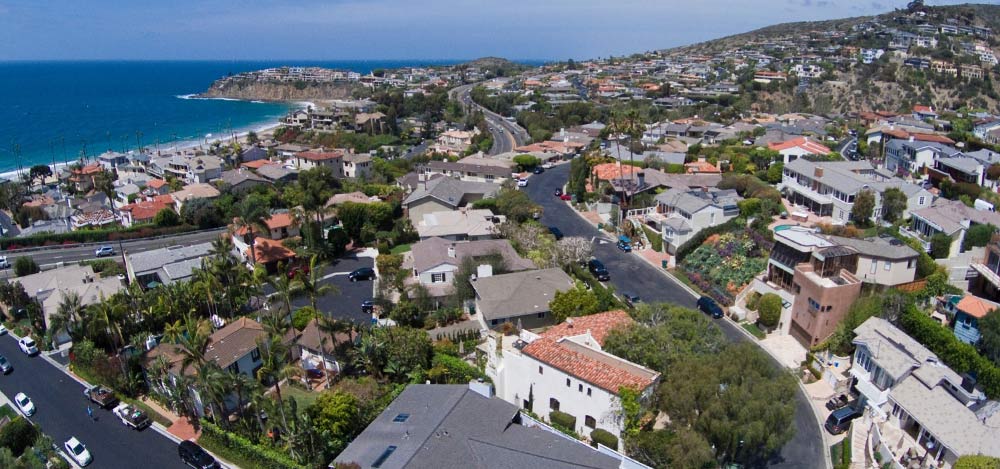 Schools
Emerald Bay lies within the highly rated Laguna Beach Unified School District (ranked 43rd out of of 789 districts on SchoolDigger.com). The public schools servicing the residents are:
– El Morro Elementary School (State Rank: 10, GreatSchools.org rating: 10)
– Thurston Middle school (State Rank: 10, Greatschools.org rating: 10)
– Laguna Beach High School (State Rank: 10, Greatschools.org rating: 9)
So, is Emerald Bay part of Laguna Beach or not?
Emerald Bay is unincorporated county land, surrounded by, but not part of, Laguna Beach. In fact, if you look at this official city map of Laguna Beach you will find that Emerald Bay is not part of the city. However, for most intents and purposes Emerald Bay is considered Laguna Beach. Emerald Bay homes also use the Laguna Beach zip code 92651.
Emerald Bay has its own Service District, which was formed in 1960 and has about 5 employees. The District collects property taxes and provides water, sewage, trash, parks, street maintenance and security services for the neighborhood. Emerald Bay Community Services District contracts their services with their homeowners' association.
This information is provided solely as a courtesy by Jaleesa Peluso, Laguna Beach Realtor. It is deemed reliable, but not guaranteed.