Date: February 22, 2018
posted by Jaleesa
/

Comments: No Comments

/

Tags: There is no tags

Buying a home is always a bit of a complicated process. But throw "waterfront" in the mix, and things become a bit more complex. Here are 7 tips from your Orange County Waterfront Expert:


Fortunately, as real estate agents who regularly deal with waterfront properties we know the ins and outs of this process. Whether your are looking in San Clemente, Dana Point, Laguna Beach, Corona del Mar, Newport Beach or Huntington Beach… These 10 tips will give you a heads-up on what to expect when purchasing an Orange County home by the water.

TIP 1: Work with a Professional
Find a real estate agent who's a true waterfront specialist. The average Orange County agent won't have the detailed knowledge of waterfront properties required to help you find you the best home. Example: You may think you've found a great deal on a bluff front home, but the reason it's lower priced is because for 6 months out of the year the beach is completely under water.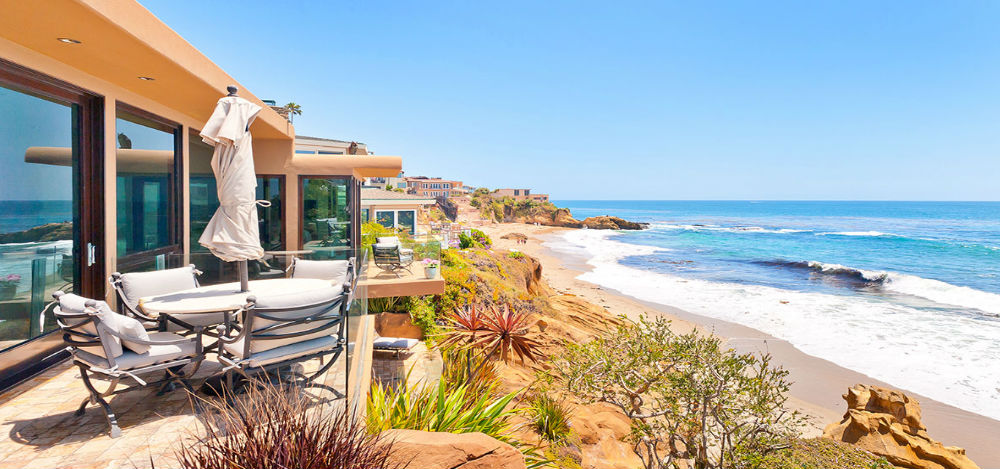 TIP 2: Do a lifestyle check
Ask yourself what type of life you want to live in your oceanfront home. Between the Orange County coastal communities there is a HUGE lifestyle difference. In Laguna Beach you may enjoy stunning views of clear blue water and whales, but have no direct access to the beach. In Newport you may live on the sand, but the amount of water in your view is really only a couple of inches.
Do you want to live an active lifestyle, ride your bicycle down the peninsula or walk from your house straight unto the sand with your surfboard? Or do you want to drink a glass of wine on your patio, while viewing the whales migrate to the sound of the waves crashing against the bluff below you? Those are not the same thing! Or would you prefer to drink your morning coffee, as the sun rises from behind the mountains and the first boats start passing your home on the channel? It is pretty a rare to find a home that combines these different lifestyles, so it is important to discover where your priorities lie.
Choose a property that truly fits your lifestyle. You may find a beautiful property for sale deep inside the Newport Harbor, but it's half an hour away from getting out to the ocean. If you love to go out deep-sea fishing, that's going to make a difference in how often you actually do it. Focus on the activities you're passionate about and choose a property accordingly.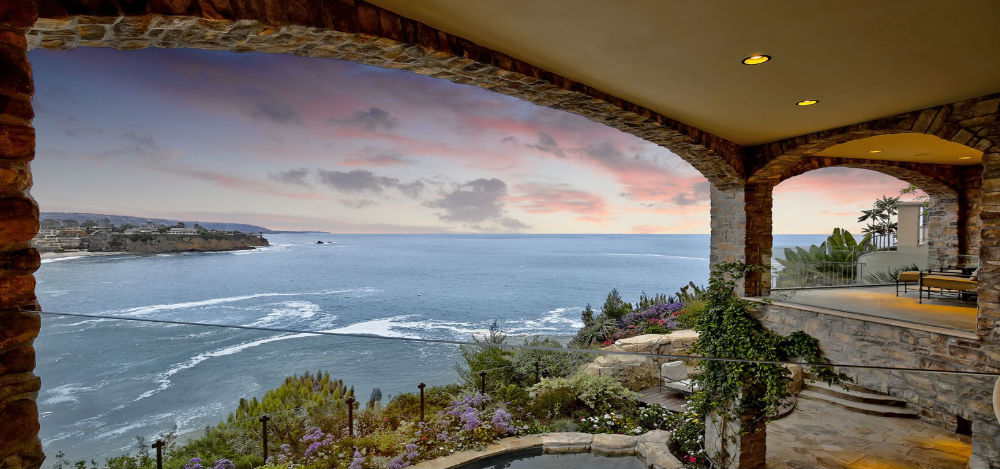 TIP 3: Get started on your loan
No matter how well qualified you may be, look into loans early. Since many waterfront properties are more expensive than other properties, loans will often fall into special jumbo categories. I can't even begin to describe how often I have seen well qualified, affluent buyers wait for weeks to get their pre-approval. When you don't fit in the standard box, loans simply take more time. Furthermore, not all lenders can lend on Orange County waterfront homes.
We recommend that buyers interested in owning an oceanfront home, start the loan process as early as possible. If you would like recommendations for qualified and experienced lenders, just give us a call at (949) 395-0960 and we'll be happy to put you in touch.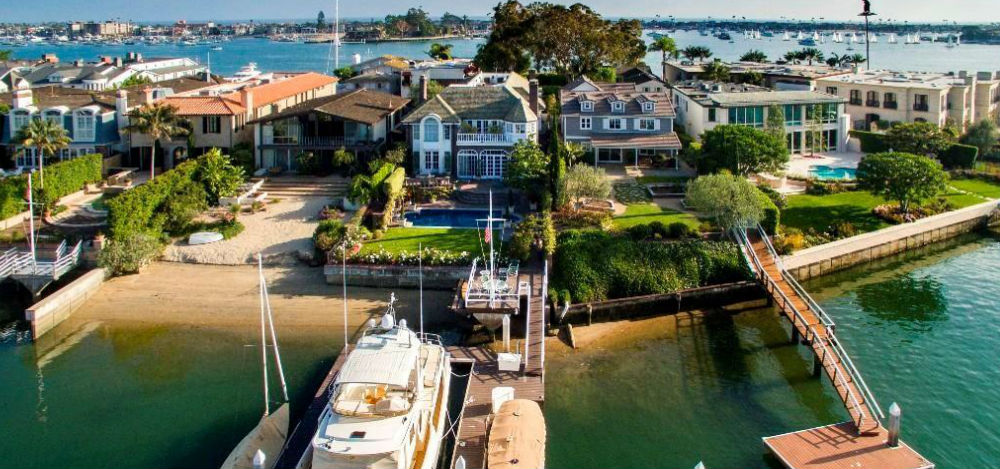 TIP 4: Investigate the tides and weatherproofing
Make sure your future house can withstand the weather and waves. Waterfront homes receive more abuse from the elements than the average home, so extra measures should be taken to protect them. While we may not have to worry about hurricanes in Orange County, homes between Laguna Beach and Newport Beach can be subject to abuse by big storms and even storm surges. While this is the same all along the Southern California coast, and while it may be relatively uncommon, it is something you should be aware of. If you are particularly concerned about this, a home high up on the bluff may be for you.
TIP 5: Check on any government restrictions
Find out what you can do with the property. Whether you want to dock a large boat in front of your Newport Harbor home, or make any changes to your Laguna Beach waterfront property, such as adding a dock or a seawall, start this process early to ensure that these alterations will be possible. Between the California Coastal Commission and the Local Governments there may be significant restrictions on what you can do to your property. You don't want to commit to purchasing a multi-million dollar home without knowing that you can really do what you want to make it your own. Also find out what kind of activities are allowed on the body of water, as some areas have restrictions on fishing and certain types of water-crafts.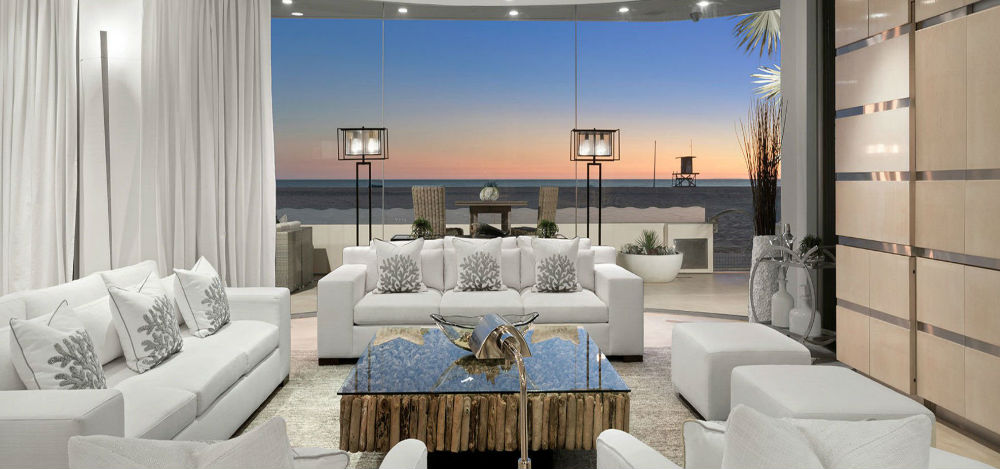 TIP 6: Check the HOA regulations
Many of the oceanfront homes in Orange County are not in HOA areas. For some people this is considered a big benefit. Others however appreciate the benefits a homeowners association can bring. There are still quite a few oceanfront communities that do have an HOA, including: all condo communities, Emerald Bay, Three Arch Bay, Irvine Cove, Balboa Coves, Camino Shores, and Lido Island. Get to know your responsibilities as a waterfront homeowner. If you're part of a homeowners association, find out what kind of upkeep and maintenance of the property will be required from you by reviewing the conditions, covenants and restrictions, or CC&Rs, and talking to the HOA's management company.
TIP 7: Most of all…
But most of all, enjoy the process. Looking at oceanfront homes can be a treat. The process is generally fun, educational, and enjoyable. Whether you are looking in Huntington Beach, Dana Point, Laguna Beach, Corona del Mar, San Clemente or Newport Beach, you get to look at homes in one of the most beautiful beach communities in North America. I feel quite confident that you will love it here!
About Jaleesa Peluso, Orange County Realtor & Certified International Property Specialist
Between the Orange County Canyons to the Coast, Jaleesa and her team successfully connect home buyers and sellers & landlords and tenants. Thinking of leasing, buying or selling your home? Call us now at (949)395-0960! We serve all of Orange County including: Dana Point, Corona del Mar, Rancho Santa Margarita, Lake Forest, Ladera Ranch, Laguna Beach, Laguna Niguel, San Clemente, San Juan Capistrano, Newport Beach, Costa Mesa, Huntington Beach, Irvine, Orange, Tustin, Aliso Viejo, Laguna Hills, Mission Viejo, Rancho Mission Viejo, Laguna Woods.